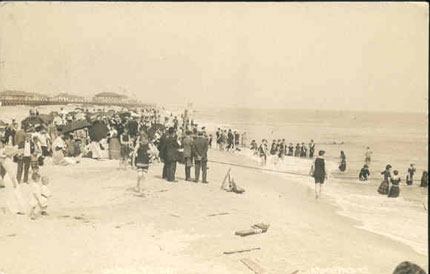 Long Beach, New York

Early 1900's

Page 8

This page was last updated on: December 27, 2015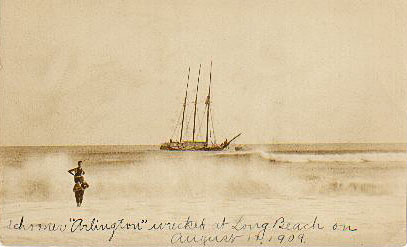 The wreck of the Schooner "Arlington" on August 17, 1909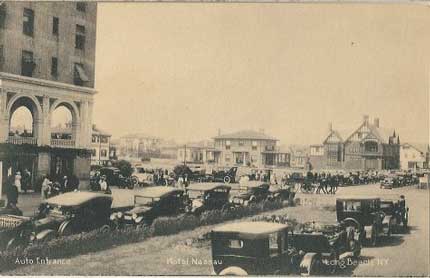 The "Auto Entrance" at the Hotel Nassau, National Blvd and the boardwalk, circa 1910.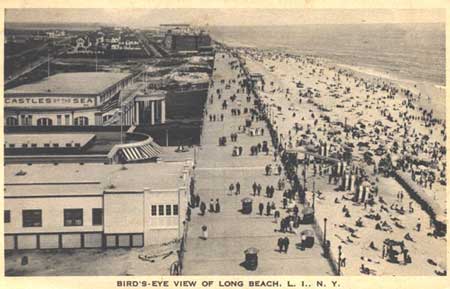 Looking east from the roof of the Hotel Nassau.. I have this photo elsewhere, but this seemed a clearer shot.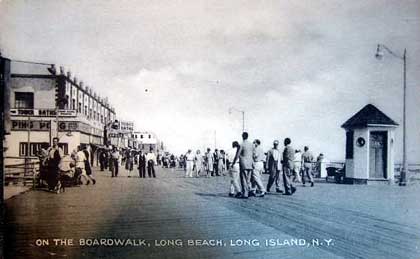 The Tower Baths are visible on the corner and the sign under them reads "Ping Pong" !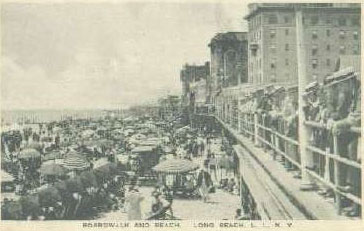 A crowded day on the beach and a line of men in straw hats on the boardwalk.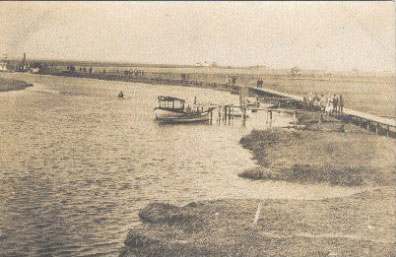 The caption on the card read " This is where we landed last Wed. and are having a swell time" etc, etc...  it was postmarked July 29, 1907 in the morning (that was the day the great Long Beach Hotel burned to the ground, it would have been raging that morning).. the postmark shows a Point Lookout post office.. which was really part of Freeport in that year.. this a ferry dock in Point Lookout where the boats from Freeport would arrive bringing visitors to the cottages in Pt Lookout and ealier, to the Nassau by the Sea resort.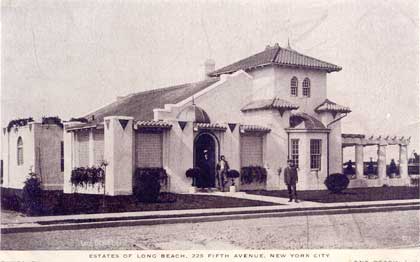 One of the early "bungalows" conforming to Mayor Reynolds specifications.. Spanish tile roof and white stucco.. this circa 1908 (this home is pictured in color on one of the glass plate pages)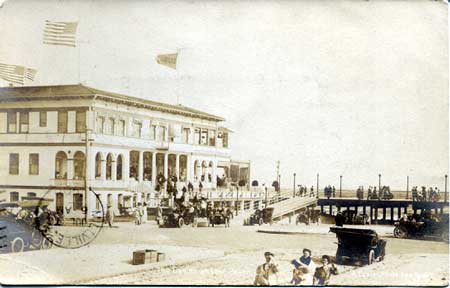 The building at right is the "Casino" at Long Beach Blvd and the boardwalk.. I have much better photos of it on other pages.. what makes this one special is the note I found written by the sender.. it positively locates one of the cottages that belonged to the Long Beach Hotel.. cottage # 6.. their locations have been generally identified, but this positively identified the location of at least one of them in relation to a known point.  This was 1908.. see the caption on the card below....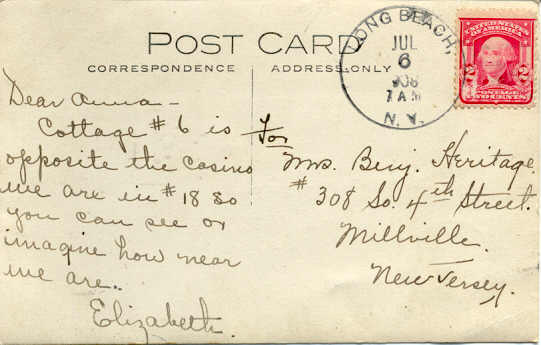 Notice where the sender makes a comment about the exact location of cottage 6 in relation to the Casino..she just helped put a piece of Long Beach History in place, 90 years after she sent the card ! !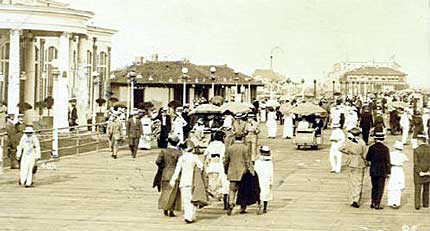 The Castles by the Sea dance theatre.. circa 1914  (the low building to their right were the original town hall offices)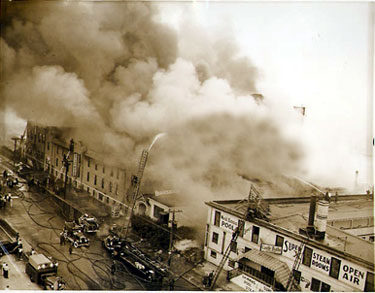 The Castle Baths on the day of the great fire there in 1936.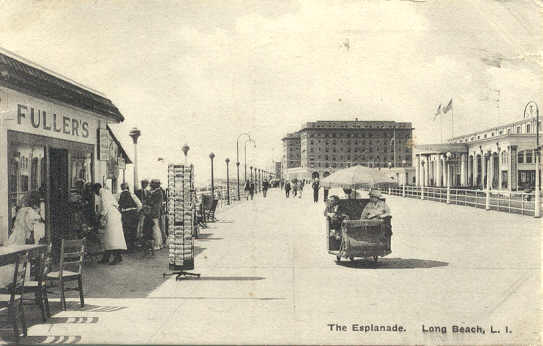 Fuller's on the boardwalk, circa 1920, Castle Theatre and the Hotel Nassau in the background.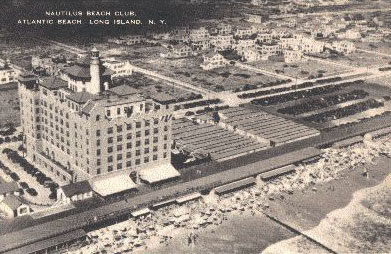 A little Atlantic Beach here.. the Nautilus Hotel.. I have a series of photos when it burned to the ground on another page... It was replaced with a new structure which is still standing, named "The New Nautilus" on the ocean below the Atlantic Beach Bridge.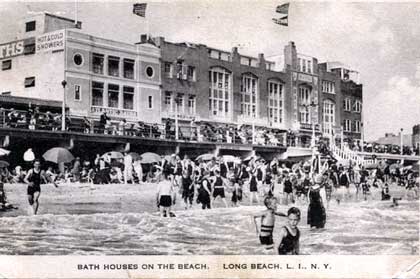 The Riviera Baths on the far right, the Atlantic Baths on the far left.. between them is an "Italian American Resturant" discernible with a magnifying glas on the original photo.  These buildings were on the east side of the Riverside Blvd boardwalk ramp.

Another shot of the Riviera Baths, this one earlier than the one above as the Atlantic bath house has not been built yet. In the distance are the Dauville and Trouville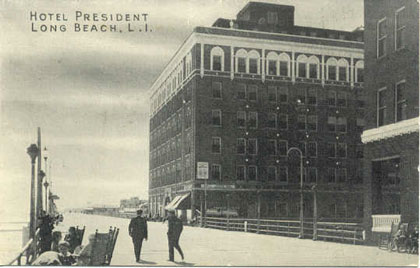 The President Hotel, SW corner of Laurelton and the boardwalk.. burned to the ground August 31, 1965... this circa 1930's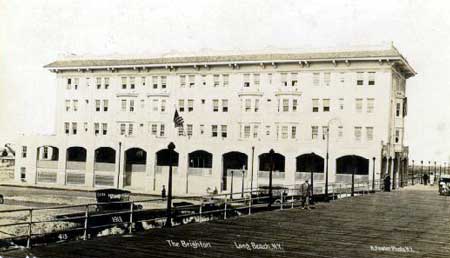 The Brighton Hotel, circa 1913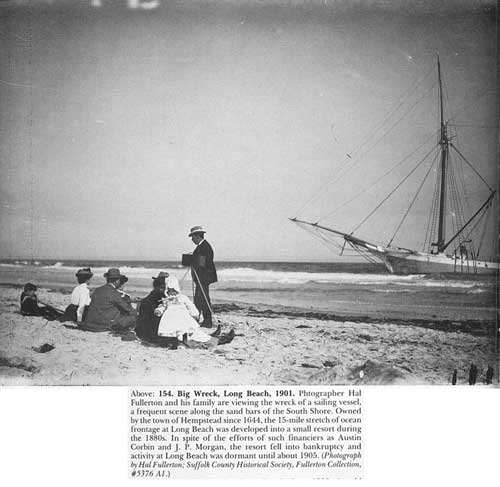 A sailing ship wrecked on the beach, 1901. (Suffolk County Historical Society, Hal Fullerton Collection)