WWW.ILoveLBNY.Com

Long Beach Fire Department

Page 4

This page was last updated on: April 2, 2011
More great photos from the busiest Fire Department on the Island!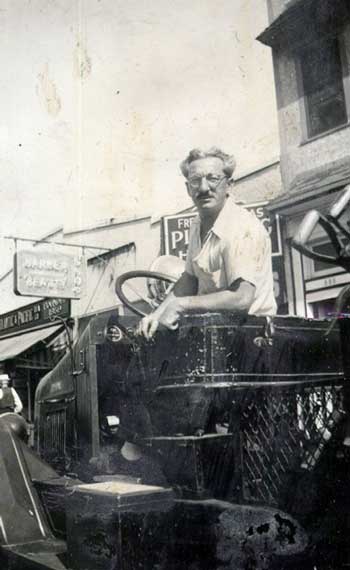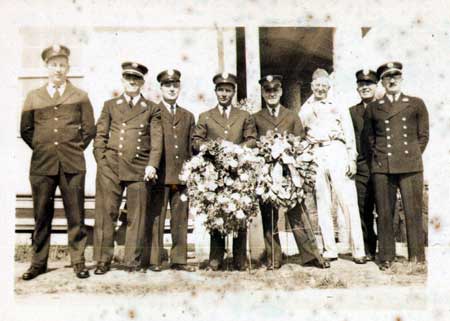 The late Moe Bodenstein, who would eventually become a Deputy Chief.  It is believed this photo was taken in the 1930's.  It was taken in front of the old Alabama Ave. firehouse on Beech St..  The old A&P store, which was on Wyoming Ave, is visible in the left hand corner (sign reads Atlantic and Pacific Tea Company in the larger photo I have.) The barber shop sign and a plumbers sign is also visible, as is the address 889 (W Beech). There is speculation about which rig Moe is sitting in.  It is possible it is the first ladder truck which would have been assigned to the Indiana firehouse when this was taken.  The stencil "No. 2" is visible on the hood in original photo.  I'll update the photo when we get more information!

Photo courtesy of Ed Steffen Jr.

LBFD 1944.  The only people identified are Moe Bodenstein (far right), Jimmy Golden (second from right) and Ed Steffen Sr. (third from right in the military dress). Send me any other identities you know!

Photo courtesy of Ed Steffen Jr.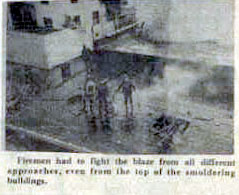 I just missed this fire in July or early August of 1978. I had just moved to Virginia to start work with Fairfax County FD when my brother called me to give me a hard time about missing an 8 alarm fire! This was 2 E. Park Ave.  It used to be Leone's and at the time was Murray Fried's Used Furniture store.  The fire aso gutted an insurance agency and an electronics store.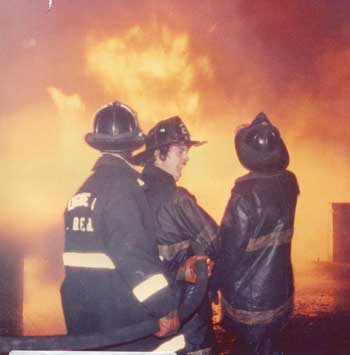 The late Kevin Toth (R) and Chuck Jacobi (C) at the Nassau Fire Academy in Bethpage around 1976.  The guy on the left backing me up was Joe Brooks. Gotta love those rubber coats and fireball gloves!  (How did we ever survive?)

Original photo taken by Jack Theobald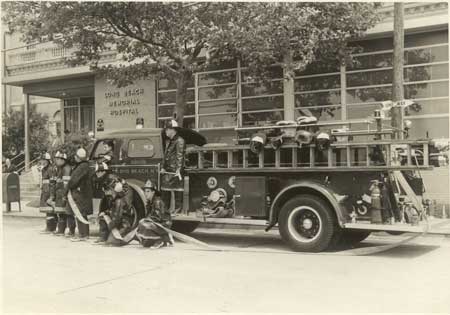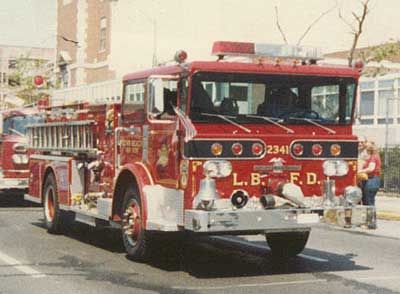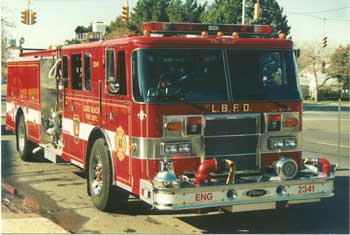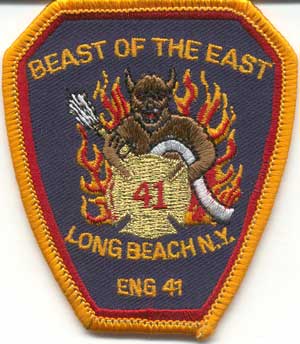 These three photos of Engine Co. 1 (2341) and the Company Patch on the right are courtesy of Frank Walpole. 

Thank You!

June 1966 - Long Beach Uniformed Firefighters Association - Group 2

Left to right :  John Caracciolo, Joe De Rosa, Jim Baratta, Lt Al Ligouri, Ed  Mc Ardle, Wally Hornung, John Chalvein and Richie Evans;

Photo courtesy of John Caracciolo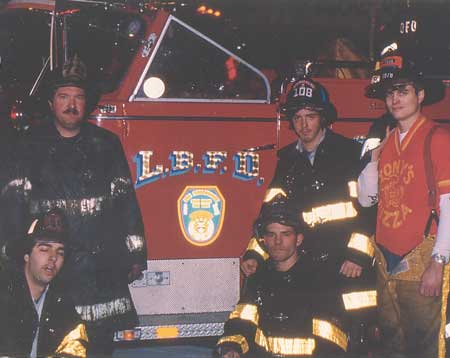 Here's a shot taking a blow after a job on Park Ave. around 1988. The old Snorkel "72" 

Left to Right:

FF. P. Margaritis (NYC Fire Patrol), Captain Romano Lovrich (LBFD) , K. Lucano (LBFD Eng 42), FF M.Piycher (GCFD/NASSAU POLICE) LT. M. Hayes (FDNY LADDER 38) .

Photo courtesy of Ron Madaio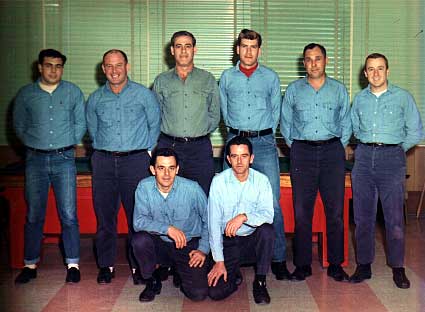 L to R: Howie Hemsley, Mike Kerr and the late Jerry Lamagna.  April 25, 1998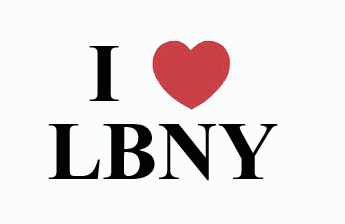 WWW.ILoveLBNY.Com

Long Beach Fire Department

Page 4