WWW.ILoveLBNY.Com

Long Beach, New York Lifeguards

Page 2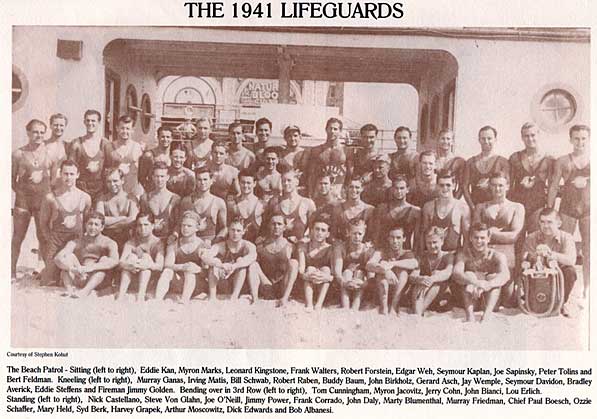 Courtesy of the Long Beach Historical Society and Stephen Kohut.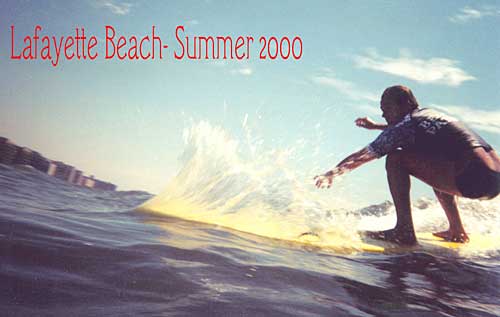 One of the guards taking a break from the stand.

A nice ride on another beautiful Long Beach day.

Photo courtesy of Justin Toumey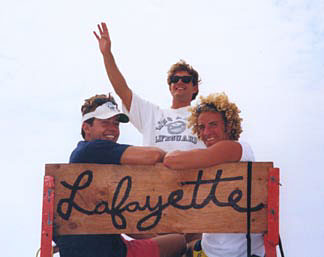 On the stand at Lafayette in 1999.

Photo courtesy of Justin Toumey

Send me your beach scans!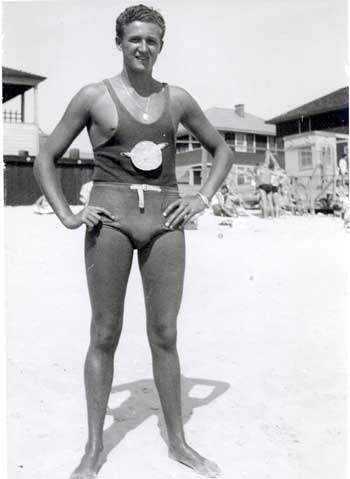 This is Ed Steffen Jr. during his first summer as a lifeguard in 1941.  This is Delaware beach in the West End.  Ed's also in the group photo above.

Courtesy of Ed Steffen Jr.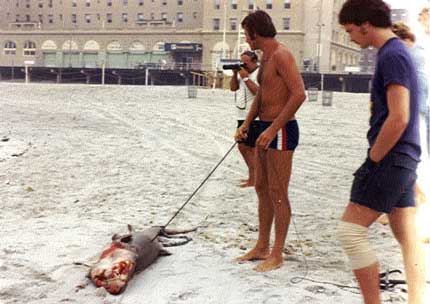 I don't think there was any attempt at resucitating this visitor to the beach in the mid 1970's !! This shark was pulled from the waters at National Blvd. Tom Daly holding the spear and Tom Russo with camera.

Photo courtesy of Nancy Kavazanjian

Brian (Dave) Sullivan, Long Beach Patrol, 1961-1965, provided me with a little inside view about his time with the patrol. T
hanks !
Well,these are 'war stories', before GPS and computers. Everything was 'eyeball', and stamina, plus a healthy ability to 'take in salt water' and 'speed swim!'

Interestingly, as I look back, I was a terrible swimmer,but I had the 'eyes of a fish hawk!'    I'd be on the chair and I would call down to my off duty partner Bart O'Connor.  The last I heard, he was living in Hawaii, which was some 20 years ago. We worked National Blvd Beach. Me, because I was a lousy swimmer, and Bart, built like Charles Atlas although  5' 6" tall, he could swim like a torpedo. Nevertheless Ronnie Quinn, the Assistant Chief of the Long Beach Patrol, knew how to balance coverage.    The rationale was -all the 'old men' could get in on the action, should myself or Bart, 'Blow a Run' at National Beach and the SHACK RATS could leave their honeys and 'charge ahead' to back us 'kids' up and 'grab some glory!   It pissed me off at the time, but after 40 years and 26 years overseas for the 'Agency', I can understand, easily where they were coming from, and I bear them no ill will.

Indeed, as things have developed during these past 40 years, like the jammed together thing of WWII aircraft production, and "Rosy the Riveter", one can stand aghast that things could have been done that way. And, still, the job got done!  It was all very personal.

The one common denominator was that the ocean gets rough and the people came in from the City thinking they can, at the start of the Beach Season, do the same thing they did at the close of the last season!    Sorry, folks, it just doesn't work that way!    Enter the Long Beach LIFEGUARDS....

This page was last updated on: May 11, 2008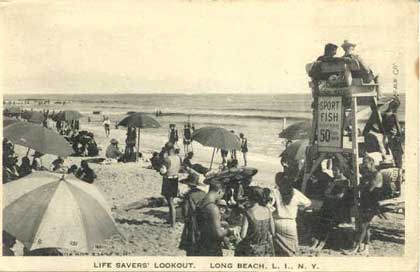 This was 1920.  The sign on the back of the chair reads "National Baths" "Sport Fish for Surf Riding 50 cents per hour".  I guess a "sport fish" was some sort of surf board.  The National Baths were between Magnolia and National Blvds.

This page is dedicated to the memory of Bill Mulqueen, Long Beach Lifeguard, who died as a result of a pneumonia he developed after a multiperson rescue he made in 1932. 

Lido Naval Base (Lido Hotel) Lifeguards- Ed Steffen sent me these next two photos along with this documentation: 

"I was fortunate to find a job with the Lido Naval Base in June 1946 responding to an add for Life Guards.

They hired 10 civilians to compliment the Navy's 10 men to man the Lido's Beaches and Pools.  There was a dual purpose for this set-up the Navy provided facilities for men who were sent to Lido for discharge and also for their normal base compliment.  Second a group of wounded veterans being treated at St. Albuns Naval Hospital would visit the beach for R&R most days.

When the appropriation for civilian guards expired on 1st July 1946, Commander Landers called us together and notified us of the termination.  The same day I was offered "Chief" if I cared to stay on plus the doubled my salary so how could I refuse.

As things turned out I rapidly became a "swabbie" known as Chief Whistler Blower, complete with pith helmet and a contrieved seal on it's front (ref the first shot though my helmet is not all that distinct)."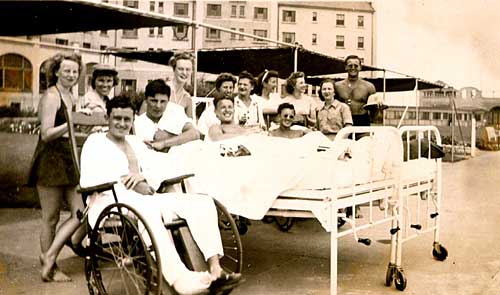 (Only one identified is Ed Steffen, Guard on far right, back.)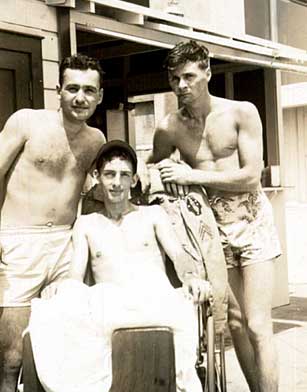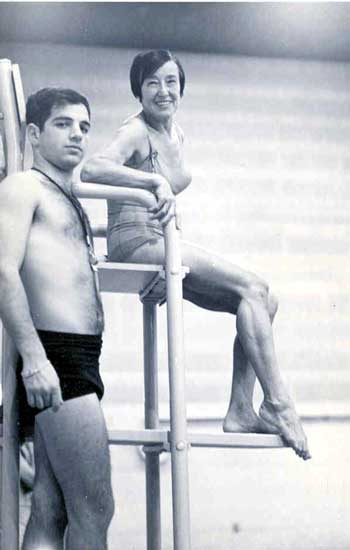 Ilona Censor and Steve Kohut guarding together at the Rec pool Jan 1969.

courtesy of Vera (Censor) Kwiat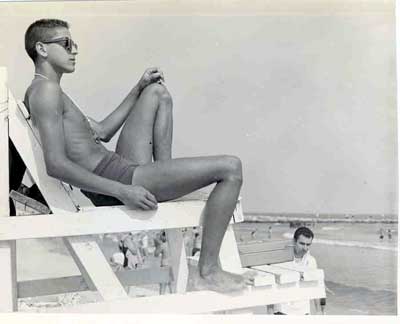 Alex Censor on duty in the early 1960's.

Courtesy of Vera (Censor) Kwiat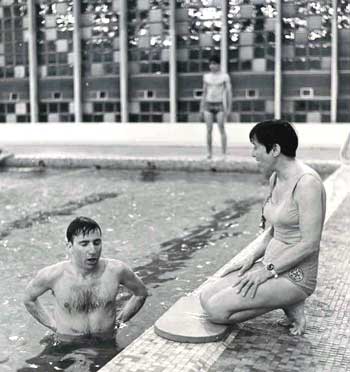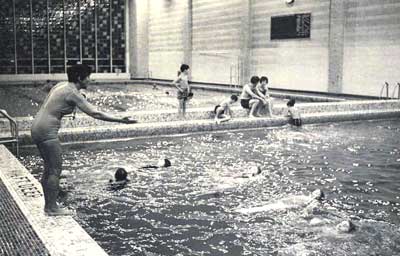 IIona Censor teaching swimming at the rec pool. 1968 and 1969.

courtesy of Vera (Censor) Kwiat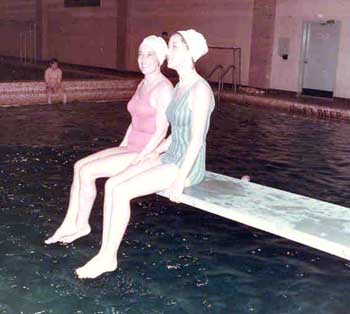 IIona and Vera Censor guarding together at the Recreation Center Pool in 1968.

Courtesy of Vera (Censor) Kwiat)