Long Beach New York

I Love LBNY.Com

Page 8

This page was last updated on: January 7, 2016
More photos from the attics, basements and photo albums of past and present Long Beach residents, visitors and collectors.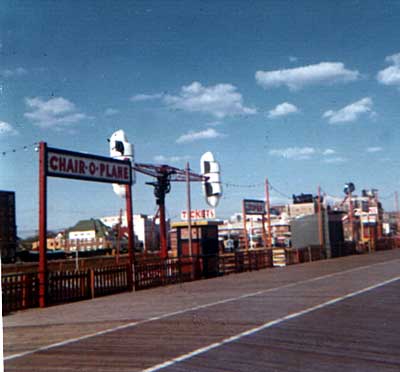 The old Grubergs Amusement Park on Edwards Blvd in June of 1972.  This was a fun place to visit as a kid at night, it's a shame they tore it down.

photo by Lois Solomon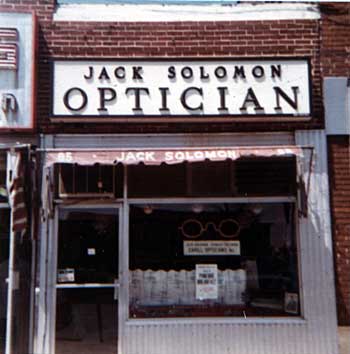 Jack Solomon's shop at 85 East Park, no longer there.  It was sandwiched between Nat's Deli owned by the Luttinger's and Mike's (?) Fish Store.. down the block was the delicacy shop, Smorack's, Marron's, Faden's Children Wear, Nettells and a number of others.  This was taken in 1972.

Photo by Lois Solomon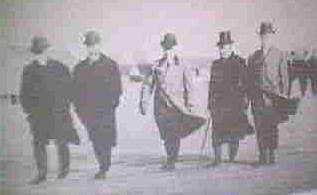 This grainy photo shows Teddy Roosevelt taking a stroll on the beach.  He is the second from the right. Exact year unknown.

courtesy of Lowell Taubman

From Ed Graff's great book on the History of Long Beach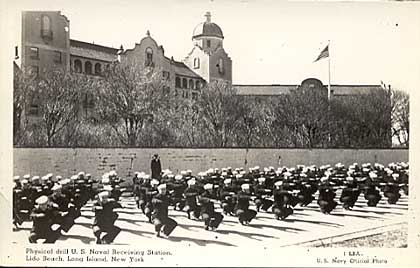 A group of sailors getting a workout at the Lido Hotel during the war when it was used as a Naval Receiving Station.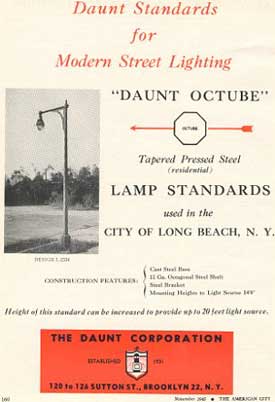 Even the street lights used in Long Beach were famous at one time !!

What we have lost that made Long Beach such a fun place (partial list).

Eagle Pier (New York Ave).

Commodore Fishing (Island Park).

Red Sail Boat Yard (Island Park).

West End Bowling Alley (West Beech St.).

Long Beach Bowing Alley (Shore Road).

Rusty's Bowling Alley (Park and Edwards).

The "rides" (Edwards).

The Boardwalk activities (Edwards to Magnolia).

Bay Beach (Between Monroe and Lincoln).

The old rec center (Central School).

The Municipal pool (Lafayette).

Orphans day (the beach and boardwalk).

Harry and Max's (Lindell).

The Cozy Nook (Park near Neptune).

The Penguin (Park near Edwards).

Jahns (Park near Lauralton).

These are but a few of the things that made Long Beach a great town. So many write about Gino's and the Beach, you know why? That's about all that's left.

Sam Schwarzman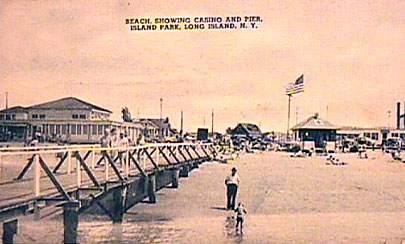 Island Park, at Casino Beach, circa 1942.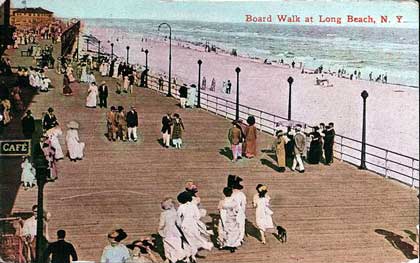 Take a walk on the Boardwalk, circa 1912, this taken looking east between National and Magnolia Blvds.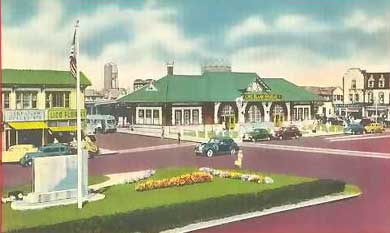 The Railroad Station.  The Minrose Bldg is visible on the far right.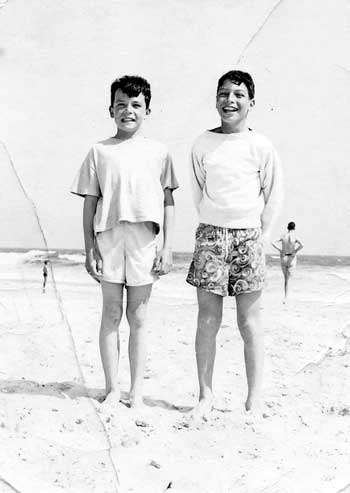 These two fine gentlemen are Steve Wisoker and Boris Reisberg, enjoying the beach at Riverside Blvd in 1949.

photo courtesy of Steve Wisoker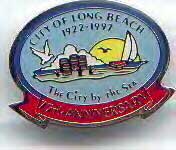 This is a pin sponsored by the City of Long Beach in commemoration of the city's 75th Anniversary.

Courtesy of Linda LaMarca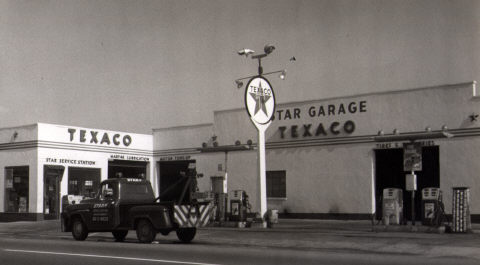 The Texaco Star Garage, NW corner of Virginia and Beech St, about 1961.

Courtesy of former owner Ruby Sheinwald.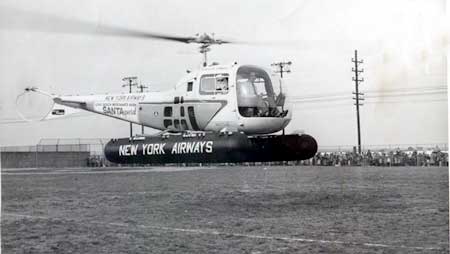 Long Beach Day, 1945. 

I believe this is at the Long Beach Recreation field.

Courtesy of the Long Beach Historical Society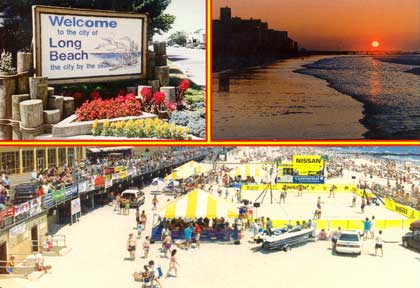 A newer postcard view of some things that make LB a great place to be!

Courtesy of Vinny Rossi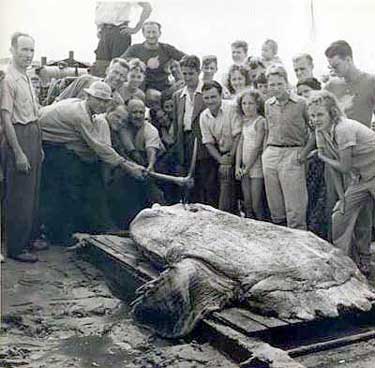 This strange looking creature is an Ocean Sunfish, sometimes known as a Swimming Head, as that's pretty much what it is, a head with fins ! This was 1942.

courtesy of the LB Historical Society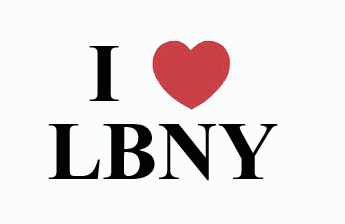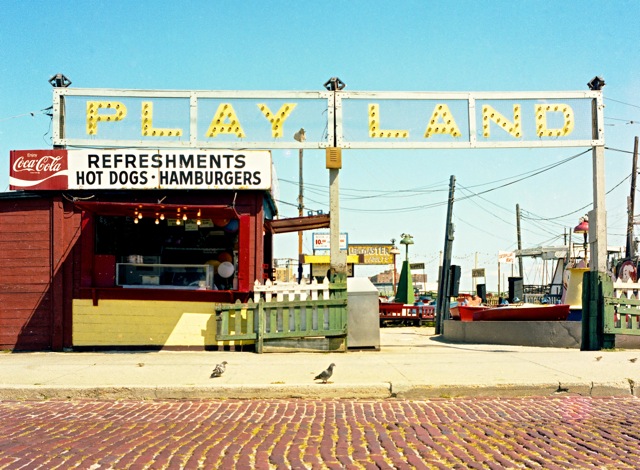 Great shot of the entrance to Playland on Edwards Blvd by Paul Shapiro..

...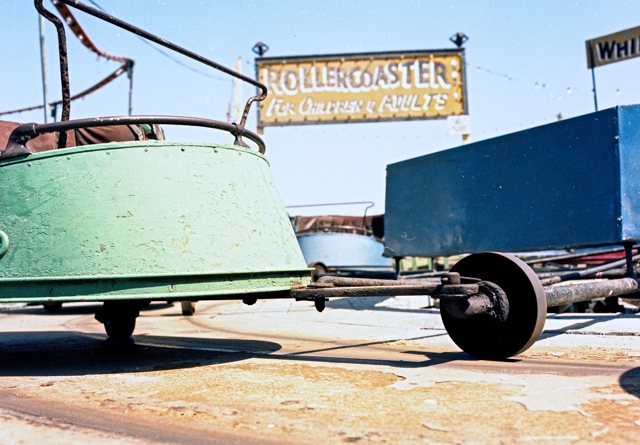 The Whip, I used to love this ride !  Thanks again to Paul Shapiro for this one..

..