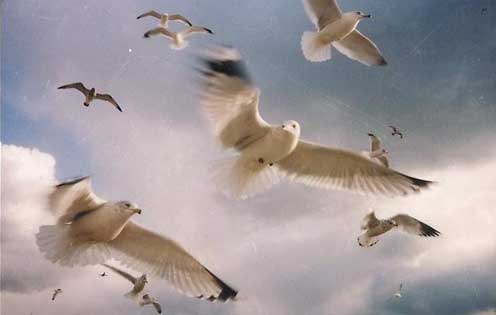 Long Beach New York

Today

Page 3

This page was last updated on: April 13, 2018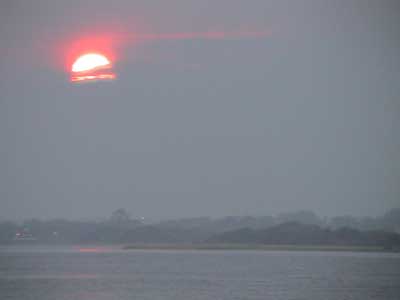 Another nice sunset over Reynold's Channel.

photo by Barrie Soloway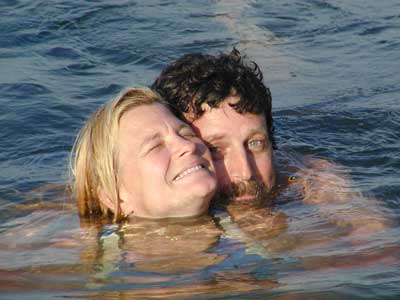 Getting wet.. it's what Long Beach is all about !!

photo by Barrie Soloway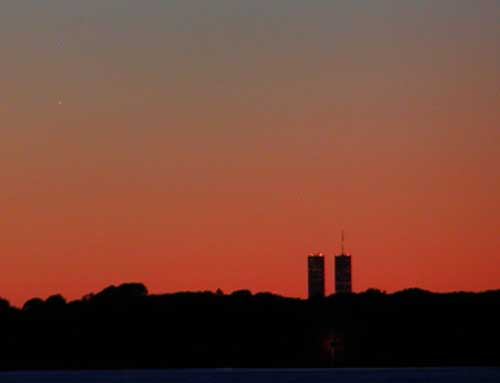 A long telephoto lens, a gorgeous sunset over the marshes to the west and tragically, a view which will no longer be enjoyed by future generations of Long Beach residents.......

photo by Barrie Soloway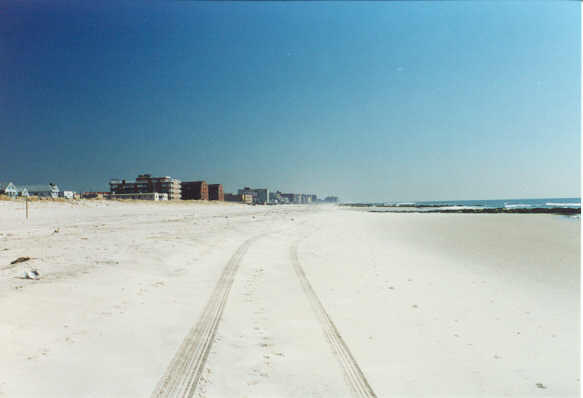 Looking East from Wyoming Ave. March 2002

photo by Chuck Jacobi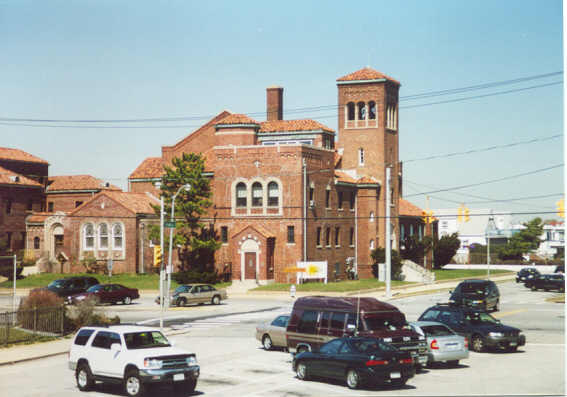 St. Ignatius Martyr Catholic Church, Grand Blvd and Broadway, March 2002

photo by Chuck Jacobi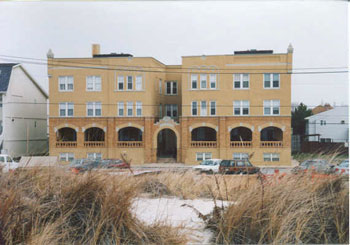 One of the old hotels at Laurelton Blvd and Broadway.  Not a very nice place today, but I suspect it will wind up with a renovation sometime in the near future. 3/2002

photo by Chuck J.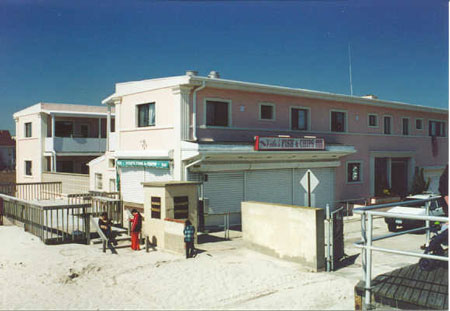 The original Vito's on the beach at New York Ave.  (formerly Bel Aire Pizzeria) Many a slice I had from this place.. even delivered for him for a while ! I can't recall what this was named before Vito bought  it..  3/2002

photo by Chuck J.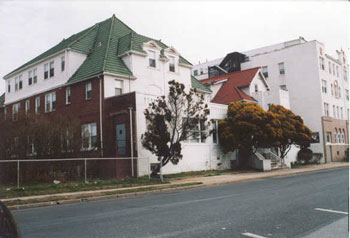 The old Beachhurst Hotel, once a nice smaller hotel but now fairly run down.. perhaps someone will bring this one back to it's former status.  3/2002

photo by Chuck J.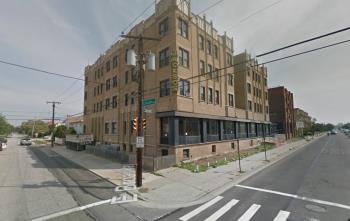 Another classic, older hotel, this one the Jackson Hotel on Broadway at Lincoln Blvd.  As of June 2003 the Jackson is once again open for business to the public  under the name 'The Long Beach Hotel.  The Jackson is about 150 yds from the beach and boardwalk..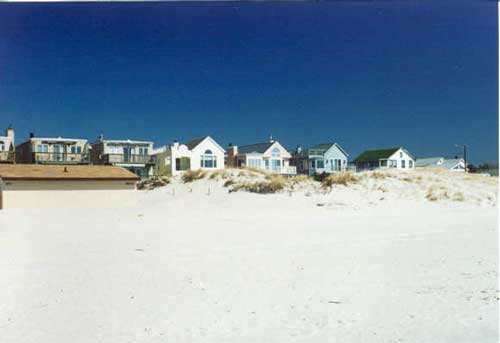 What a nice, blue sky !! This really was a perfect, early spring day on the beach. These homes are along the beach around Wyoming Ave. in the West End. 3/2002

photo by Chuck J.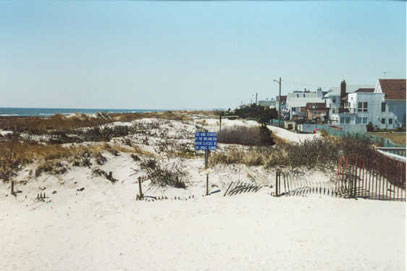 Roll your mouse over this image.. I took it from exactly the same spot as a postcard view from about 1940. You will notice the first home in the foreground on this photo is the same one shown in the old postcard behind the house with the red roof !! (without the modern addition)   I took this standing on the end of the boardwalk on New York Ave facing west. 3/2002 and approx 1940 !

photo by Chuck J.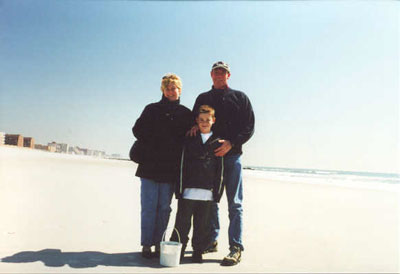 The beach doesn't get much whiter or flatter than this ! My wife Arlene, my youngest son Jeff and me.  3/2002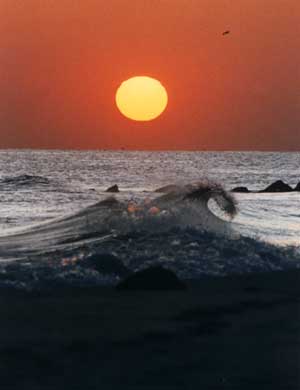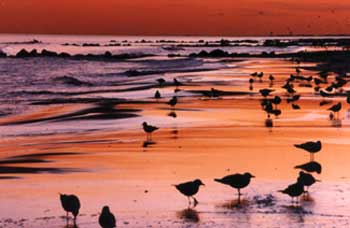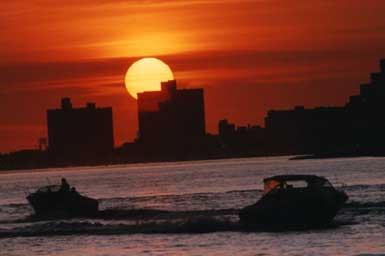 These three great sunset shots were taken by Rick Deutsch.  I'm not sure what kind of filter he used, but I have to get one !!  Thanks Rick !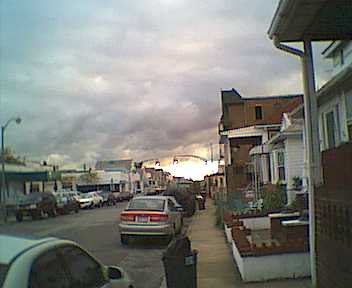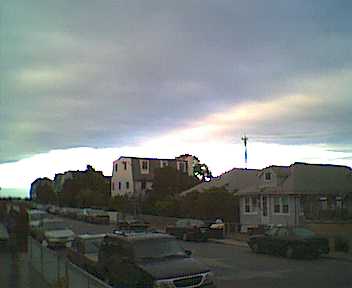 A couple of photos looking up Wyoming Ave. with a storm front overhead in 2002.

photos courtesy of John Siscaretti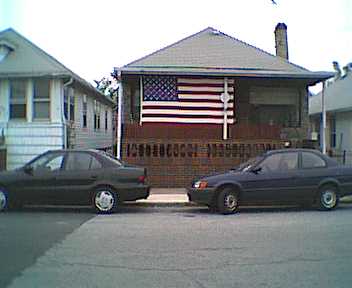 Memorial Day on Wyoming Ave. 2002

courtesy of John Siscaretti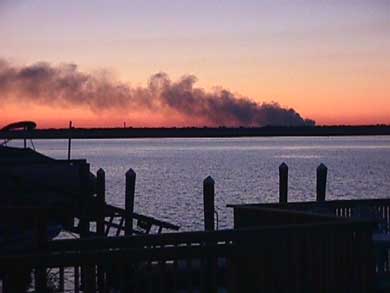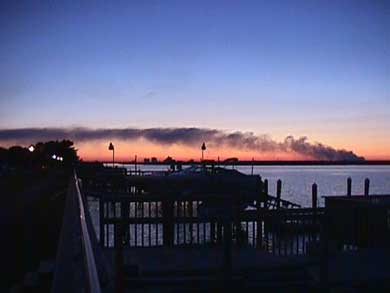 We will never forget 9-11-01........the view from Lafayette and the bay on that tragic day.

Photo by Vinny Rossi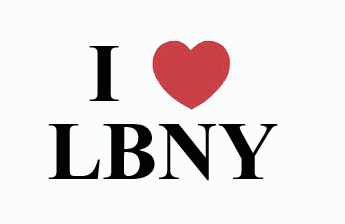 WWW.ILoveLBNY.Com

Long BeachToday

Page 3