This page was last updated on: November 15, 2011

If you have an old class photo, play, or team photo scan it up and email it to me !!

Long Beach New York

School Photos Page 4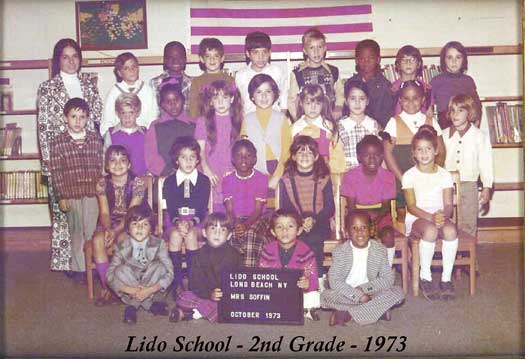 Frank Nystrom sent in this photo of what he believes is his 2nd or 3rd grade class in 1973.  Frank is in the top row, far right.  No other names provided, if you're in the photo
email me
as to which row and position from L-R !

West School 1963 L-R:

? Baxter, Ellen Shapiro, ?, Barry Berkowitz, ?, Doug Lehrman, Steve Kaufman, ?, Ananda Lal, ?, Susan Dunn, ?, Sharon Graf, ?, Dan Schwab..

Glenwood Springs, Colorado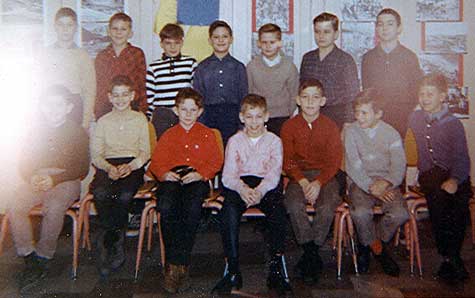 These were the boys from Mrs. Beech's (I think) 3nd grade class at West School in 1963.

All names from (faulty) memory:

Back Row:

Albert Lesser, Richard Burmeister?, Glenn Kenney, Rob Hykys, Liam Ryan, George Kopecke, Rob Veltre

Front Row:

Dan Schwab, Doug Lehrman, David Platt, Jeff Goodman, Steve Kaufman, Leo Freudiger, ?

Photo courtesy of Rob Hykys

Glenwood Springs, Colorado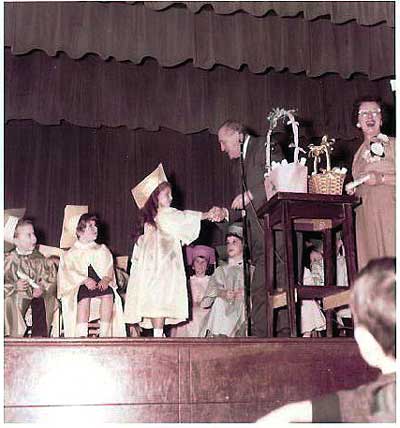 Nanette D. Jacovitz graduating from Central

School's  kindergarten in January of 1957. Miss Kelly is the teacher, The Principal is Mr. Cyrus O. Levinson..

Photo courtesy of Nanette (Jacovitz) Bergman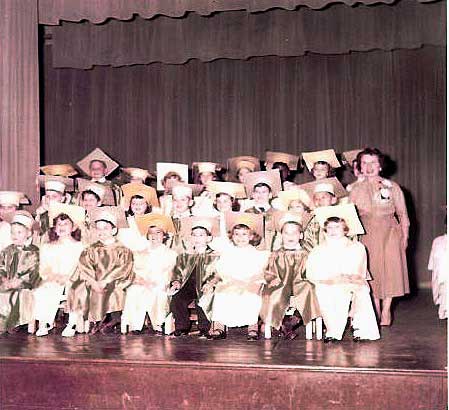 Central School kindergarten Class of 1957.

courtesy of Nanette (Jacovitz) Bergman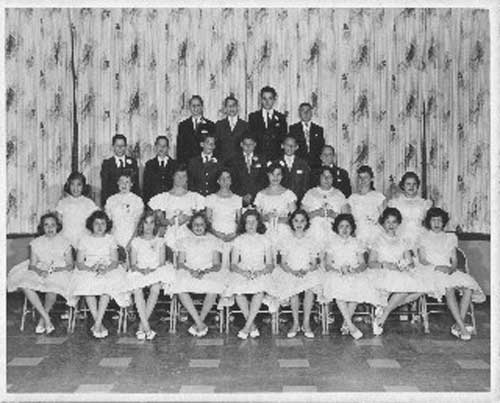 East School 6th grade graduation, class of '59 (picture taken in the music room).

-  Top row, left to right: Arthur Reed, Donald Silverman,

Phil Franck (me), Howie Fisher.

-  Second row: Elliot Ring, Bobby Bronstien, Paul Friedman,

Walter (Skip) McClain, Mike Erbstein, Mitch Blazer (died of illness in the early '70s).

-  Third row: Robin Rosenberg, Georgia Korn, Sharon Weiss, Mimi Blitz, L (Linda?) Rosenberg, Sharon Masket, Fern Elkind, Rosanne Kushin.

-  Fourth Row: Eleanore Levitsky, Wendy Rappel, Jane Tell, N (Natalie?) Wood, Adrianne Gilbert, Ann Gillian, Sylvia Challow, Marsha Sheflin,Eileen Wannuck

I believe our homeroom teacher was Mrs. Raffel

photo and documentation courtesy of Phil Franck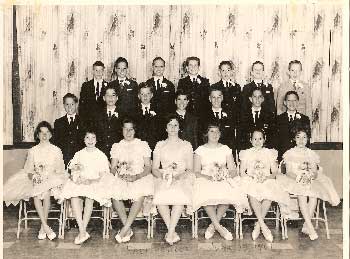 East School Class of 1961

Front; Sharon McLaine, Rita Zukor, Karen Salvage, Eileen Supraner, Gail Hasin, Donna Freedberg and Phyliss Schwartzberg.

Middle; Douglas Shatkin, Allen Ganz, Richard Hansen, Norman Berkowitz, Harry Lightstone, Seymour Kamzan and Richard Falcoff.

Back; Charles Elkin, Brian O'Conner, Alan Lobel, Jan Greenfield, Louis Pushkin, Billy O'Conner and ??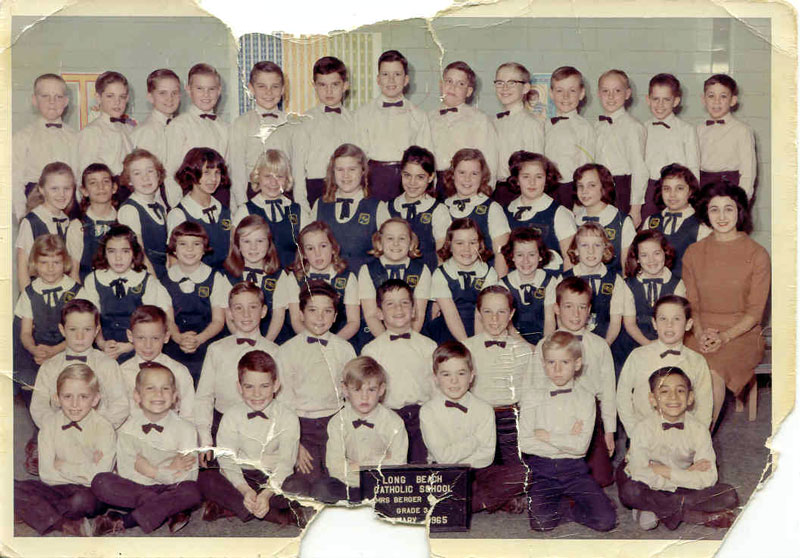 Long Beach Catholic School, Grade 3, 1965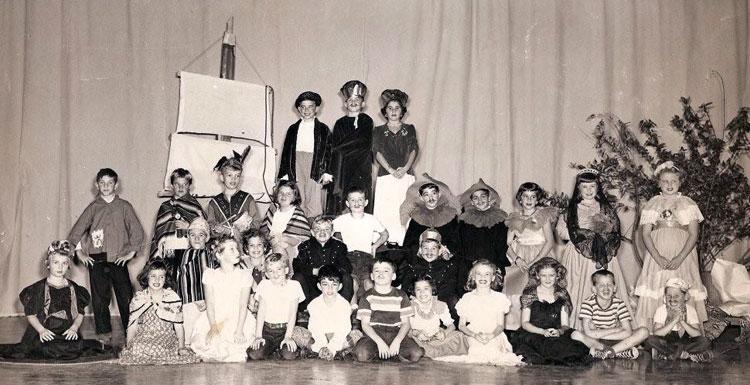 East School Columbus Play

Believed to be Mrs. McDonald's 3rd Grade Class in 1950

Barry Geller sent in this shot along with this documentation:  "I am not positive of the year or if it is Miss McDonald's 3rd grade class at East School but according to George Zannos that is what it is,

so around 1950 I imagine.  I am at top left playing Columbus--not sure of who is next to

me..row below me 4th from the left is Peter Jason with George Zannos next to  him and we believe Susan Brett next to him with I believe Anne Chatzinofffar right in that line and then Ronnie Ball bottom right.

  Sorry I can't recognize the others but then I am sure they can't recognize me either !..

Just ask my class of 1959 LBHS if they can add some names."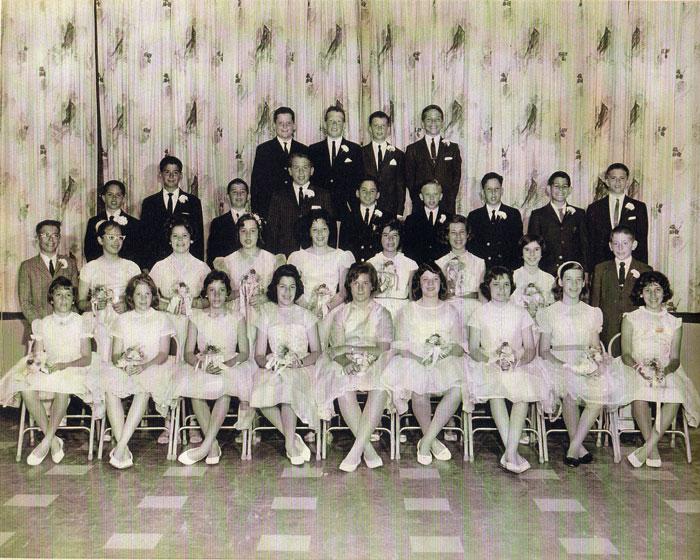 East School Graduation 1961

The teacher was probably Mrs. Pierre

Top row: Neil Cahn, Larry Scheck, Steve Hirsch, Peter Lax

2nd row: Irwin Warren, David Silverman, Craig Brown, Steve Berglas, Mark Rosen, Eric Friedman, Gerry Garvin, ?, Jeffrey Ambinder

3rd row: Ira Sarde, Marsha Seiman, Nancy Rice, Nancy Rosenfeld, Terry Wood, Nancy Shapiro, Barbara Jackson, Judy Lefkowitz, Phil Robinson

4th row: Cathy Blau, Judy Greenberg, Janice Cohen, Judy Massey, Carol Blakeman, Alberta Rubin, Barbara Grossman, ?, Beverly Delson

Photo and names sent in by unknown .