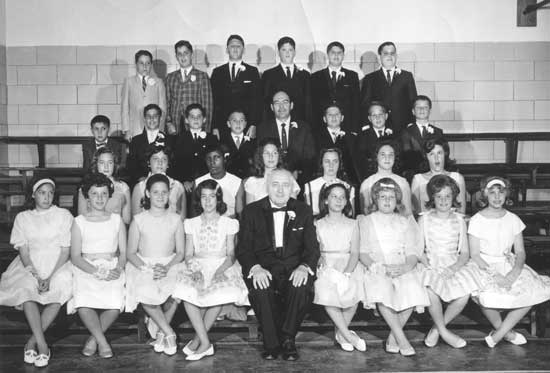 This is a third or fourth grade play at East School in 1948 or "49 (can anyone confirm for sure ??) The kid with the carrot is Sam Schwarzman, next to him is Bonnie Fass, above Bonnie is Doug ??, Barry Ragoon on the floor next to Bonnie, the rabbit is Melvin Lairbaum.  In the middle between the girls is Kenny, the boy in white standing is Maynard Engle (I think he was a duck). Looking at Maynard is Phyllis Fischer. The boy kneeling by the basket is Howard Learner, the boy in dark at Howard's left is Jerry, the girl standing right behind the basket is Sandy. The rest I remember but sadly, not there names.

submitted by Sam Schwarzman

This is a 6th grade play about 1951 or 1952.  There was a little water damage, so not everyone is clearly visible.  The teacher is Jerome Oberman.  He went on to become School Superintendent replacing David G. Salton.  Salton replaced Richard Mahr, who held that position for many years.

L-R sitting Wilbur,Melvin, Judy, Phyllis F., Carol K., Susan G., Nicky Q., Joel K., Bobby C., Benjamin C., Michael K., Warren H.

Middle Row L-R Bobby B., Peter l., Carl, Sam S., Alan W., Larry B., Mike M., Madelyn (??), Sue F. Mike K., Douglas G., Hazel L., Marion G., ??

Top Row L-R Leslie P., Marion (??), Carol B., Catherine D., Elliot S., John P., Steve A., Albert E., Billy R., Sue (??), Helen A. (??) and Frank R.

photo subitted by Sam Schwarzman

Long Beach New York

School Photos Page 2

More photos from the Long Beach Schools !! If you have an old class photo, play, or team photo scan it up and email it to me !!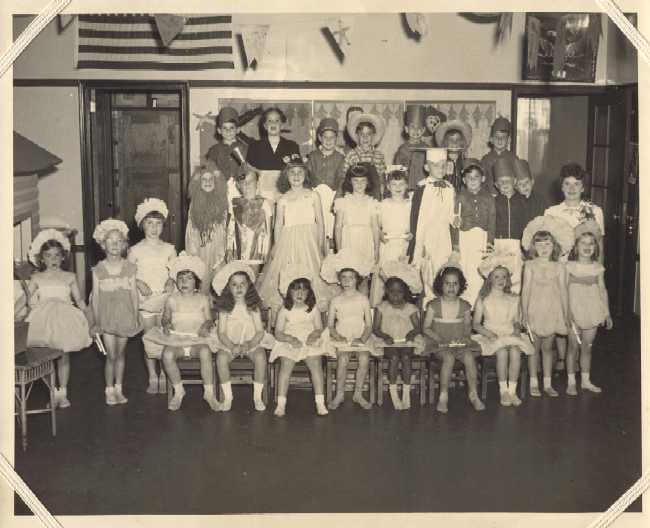 Miss G. Kelly's 1947 Kindergarten class for their class play " The Wizard of Oz " !!.

L-R Top row # 4 John Caraciola, # 6 Gary Sirota  , Second row from top #1 Brian Forest, # 2 Rennie Leoni, #6 Pat Lynch. 

photo submitted by John Caraciolo

If you can identify any more of these munchkins please email me !!!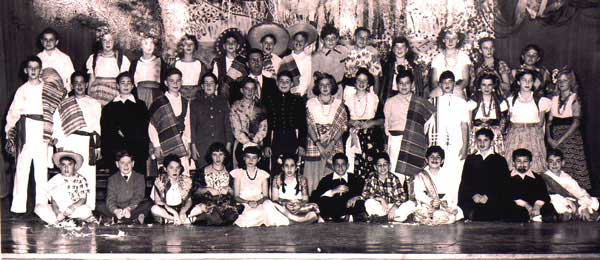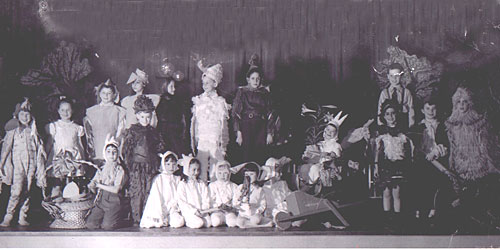 This page was last updated on: March 27, 2017
Here's a picture of Steve Ruth's Central School Elementary Class 6-1  - must have been around 1963.

Bottom row: Left to right: Jessica Pollner, Ellen Gottlieb, Betsy Casper, Karen Rudolph, Mr. Levinson, Karen Bloch, Sara Dinzes, Barbara Tilzer, Debbie Fersh

2nd row: ?, Priscilla Pollner, Delois Brown, ?, Janet Hodos, Lynn Fichtelberg, Lisa Elliott

3rd row: Gerald Gentile, Michael Suvall, Jeff Levy, Scott Kaleko, Mr. Hochberg,  ?, Marc Wollerstein, Steve Ruth

4th row: Peter Zisser, Billy Gluck, Michael Goldstein, Roger Rosenberg, Jeffrey Beals, ?

photo courtesy Steve Ruth  /// Names supplied by Debbie (Fersh) Shapiro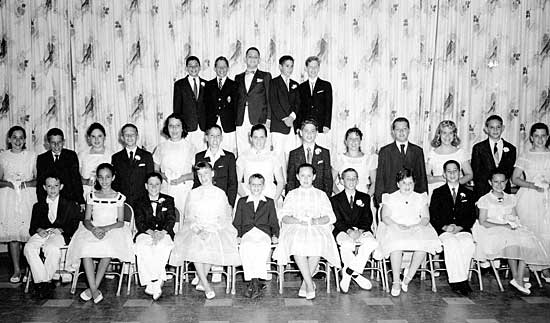 June 17, 1957

East School Graduation--6th Grade

Top Row (L-R):

Bobby Zeeman, Steve Kronenberg, Barry Kranitz, Gerald Friedman(?), Zane Alpert

Middle Row (L-R):

Linda J. Goldstein, Michael Kimmelman, Marilyn Icove, Matt Sarner., Honey Mandel, Carl Sepcich, Joann Marcus, Julie Levine, Jill Zatt, Bobby Samuels, SueAnn Gillis, Eddie Rein, Ellen Spooner

Front Row (L-R):

Tom Foner, Linda Rainone, David Scharf, Iris Bauman, Jon Sarno, Barbara Ettinger, Stewart Ball, Rose Sussman, Paul Mittleman, Ingrid Rubin

Submitted by: Ellen (Spooner) Sherin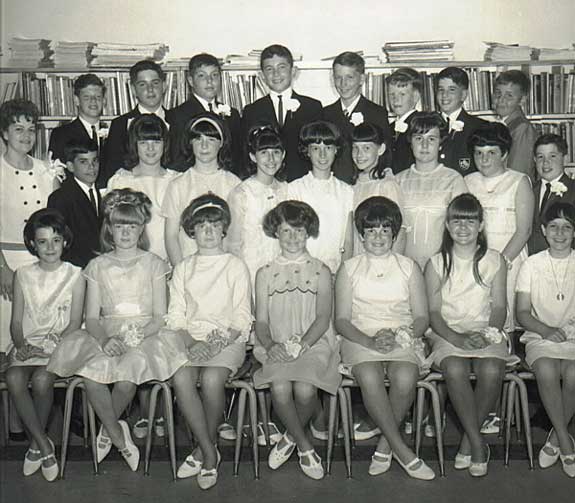 This was 6th grade graduation from West School, June 1966. The teacher is Miss Burris

bottom row:          ? , Debbie Boeckmann, Eileen Terrill, Marion O'Sullivan, Amy Kaplan, Sophie, Trivier,   Adrianne Corwin

  Middle row:    Jay Smith, Anna Marie Meyer, Nancy  ?,  Bonnie?, Mary Vogt, Melissa Bruckman,  Antonia Dominich, Ellen Cooper

   Top Row:     Robert Moskowitz, Michael Barnett, Gary Menachem,  ? ,  ?Grosso,  ?, Scott Podell...

Submitted by  Anna Marie Meyer (Beam) e-mail address  samjas@home.com

Is there anyone out there from this picture?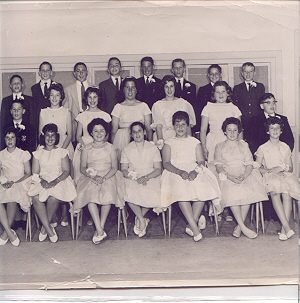 Linda LaMarca sent this one in. 

West School Graduating Class of 1960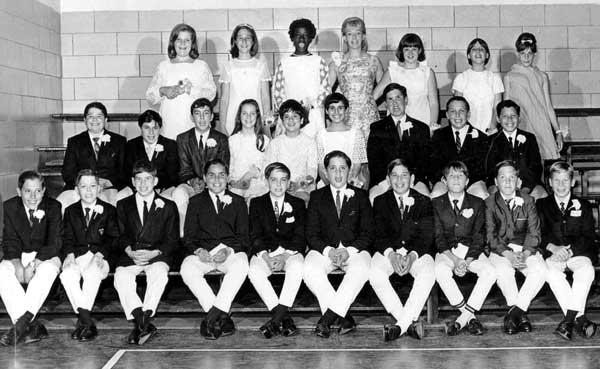 Central School 6th grade Class of 1967. 
email me
if you can identify anyone.
photo coutesy of Sheldon

The spelling of the names I'm sure will be all wrong and it's been over 35 years since I looked at the picture.

Ist Row Bottom Left

Jeffery Kallman, Billy Oshrin, Stuart Carpon, Jeffery ?, David Jones, Sheldon Friedman, Steven Pinkert, Jeffery Fox, Steven Diracles, Jerry Switzer

Middle Row - Left

Steven Peznik, Al Lopino, Robert Veltre, Donna Bruckman, Wendy Merman, Chri Constentine, Mike Borut, Peter Flax, Israel Miranda...

Top Row - Left (Now I'm in real trouble...Mostly guesses...and bad ones at that) Roberta ?, Sharon ?, Sharon, Mrs. Pomeranze, Niomi Saul, Tammy Andrews, Shelley    ( Debbie Stoface provided me with these names in the top row, but I don't know who's who !!    Linda Donnley, Debbie Meyers and Nancy Culligan )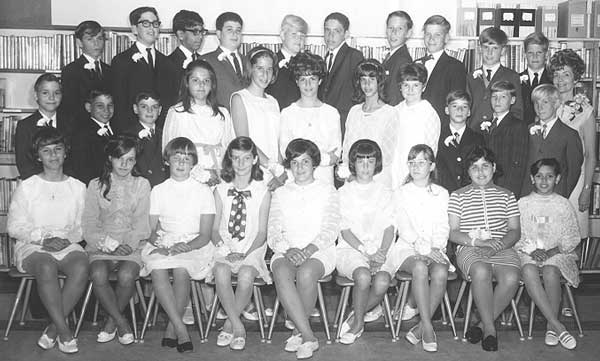 West School Class of 1968

photo courtesy of Cathey Merenda and Debbie DiPertro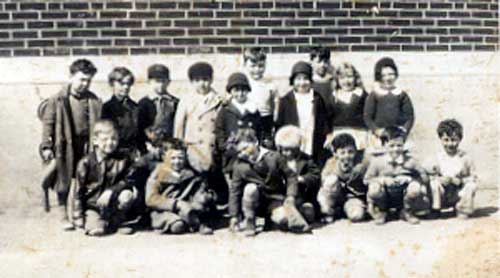 THIS IS THE KINDERGARTEN CLASS, APRIL 1931 AT THE EAST SCHOOL,  MY WIFE, ROSALIND JACOBSON,  IS THE BLONDE SECOND FROM RIGHT IN THE CENTER ROW. STILL A CUTIE AFTER 56 YEARS OF MARRIAGE OUR WONDERFUL DAUGHTER ROBIN RUBIN KAHN PUT US ON TO THIS SITE

ABE RUBIN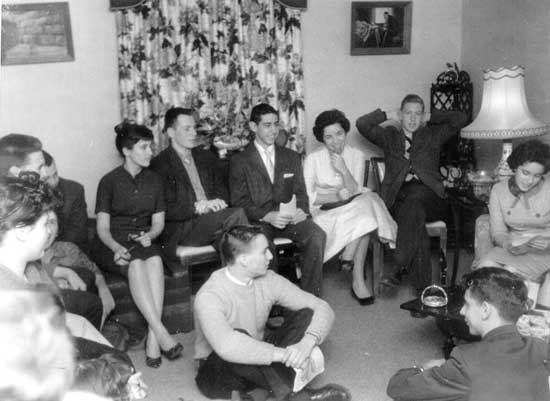 Some students from the Class of 1960.  The only one identified is Larry Behrens in the lower right corner.

photo courtesy of Larry Behrens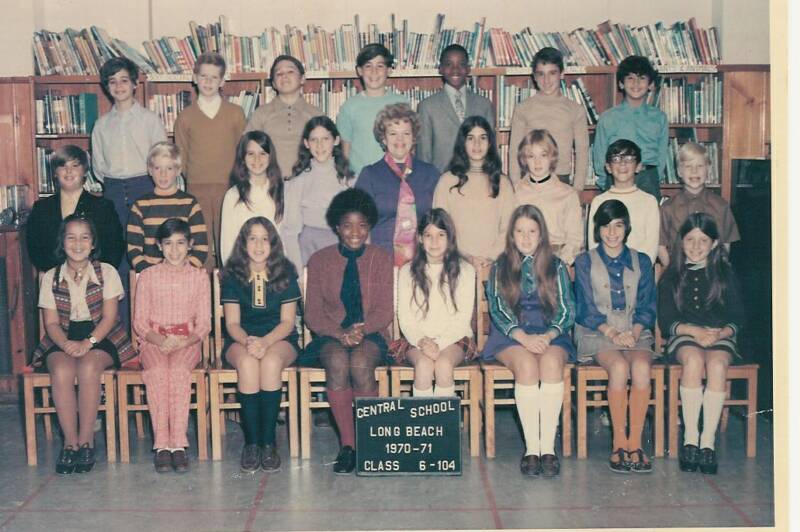 Central School Class of 1971

Left to Right  

Top Row: Brad Warshaw, Unidentified, Wille Shepard, Mitchell Kahn, Allen Davis, Bill Paganini and Glenn Schwartz.

Middle Row: Jay Kaplan, Stephen Essen, Eileen Baer, Wendy Proctor, Teacher Miss Burris, June Silverstein, Linda D'arcy, James Butera and Unidentifed.

Bottom Row: Monica Martins, Denise Murray, Cindy Gettleson, Jackie Posey, Jackie Pinto, Lydia Scheffler, Phyllis Deluca and Dari Friedman.

Naomi Brier Flynn confirmed the year as 1960 and sent in this list of names...thanks !

Bottom Row: [Left to Right]

Naomi Brier, Ruth Evers, Connie _____, Barbara Artz, Linda _____, Sandra Klein, Karen Mintz.

Center Row: [Left to Right]

Jeff Felner, Christine _____, Judy Lotto, Grace Gagliardo, Barbara Fields,

______ Bennett, Stevie Banks.

Top Row: [Left to Right] Mark Laufer, Joseph Wendell, _______, Louis _____,

Jack Feinberg, Jerry Saslow, Raymond C.